The fastest and most effective way to achieve your e-Biz goals
Webco has successfully created web services with leading companies in Korea.
We are constantly researching and thinking about the changing IT environment and presenting the best way to realize customer's needs successfully.
Web Services
Homepage · Mobile
E-commerce
Platform
- Large and small businesses
- Government offices and organizations
- Hospitals and medical Institutions
- News and Internet News
- Other homepage
- Shopping mall, multilingual mall
- B2B, Closed Mall
- Private company mall, Employee mall
- Open Market
- Franchise, A lot-solid mall
- CPC Marketing
- Landing page
- Consultation reservation system
- B2C / B2B
- Other platforms
Front-end
Back-end
- Design Renewal
- UI / UX Template Design
- Customizing the solution skin
- Data visualization (Chart)
- Other design editing
- Solution tuning and customization
- Modify PHP / ASP / JSP web programs
- MYSQL / MSSQL / ORACLE speed improvement and tuning
- External API interworking
- Other adding and changing functions
Design / Marketing
Program
Server and security
- Google Analytics integration
- Naver Search Optimization
- SEO optimization
- Improved web accessibility
- SMS/FAX electronic delivery
- Payment module, interlocking for your identity
- Zappier (automation) interlocking
- Speed optimization
- Web vulnerability improvements
- Secure server (SSL) installation / connection
- Server migration / backup / recovery
- Web firewall / anti-virus installation
Web service construction process
01. Consultation / Contract

Through counseling, the manager can deduce and suggest the best method. It will be proceeded the production after deposited the down payment.

02. Planning / Design

Screen and function planning is going on, the design is made based on the planning, through the revision and complementation, final design will be finalized.

03. Coding / Development

Worked on HTML coding and function development with final confirmed design

04. Test / Open

After the finished website is tested and corrected / complemented, the report is completed and the final site will be opened by connecting the domain after depositing the balance.
Webco Service Features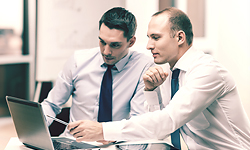 - Proposal of optimal method with abundant building experience
- Free 1 year A/S, free web hosting support for 1 year
- Reasonable price and high quality service
Pre-consultation checklist
Before consulting with the manager, you will be helpful to think about the following matters in advance.
What is the purpose of building your website?
Do you have a competitor or a homepage to refer to?
Do you have a server for web services?
How much do you anticipate to budget for the service?
When do you expect to open the service?